Brake System: Basic Check-Ups and Maintenance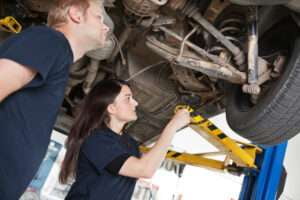 If your car's brakes are damaged or not working as they should, you'll need to find an affordable and reliable place for brake system repairs. AutoTech is the brakefixing master you're in search of! Not only are ourbrakeservices and repairs in Kealakekua, HI prompt and trustworthy, butallofourASE-certified technicians guarantee that your brakes will respond every time you need them to. Road again in no time!
In these budget-conscious times, it's tempting to cut corners where you can. But when it comes to your brake system, don't take chances with subpar service. Your safety – and the safety of your passengers – is too important.
At AutoTech, we offer quality brake system services at a fair price. You can count on us for the professional, reliable repair work you deserve. If your brakes are making noises, or you feel like you're working out every time you stop at a light, call our shop in Kealakekua, HI and we'll help get your stopping power back.
Experiencing difficulties with your brakes?AutoTech in Kealakekua, HI can help. We offer services for:
Brake bleeding
Brake caliper replacement
Brake fluid line replacement
Brake pad replacement
Master cylinder replacement
At AutoTech, we only provide the best quality services because we know that our customers deserve nothing less. We're honest and transparent in everything that we do, so you can rest assured knowing that you're in good hands. Our team is dedicated to your satisfaction, whether this is your first time visiting us or you're a returning customer. We'll always go above and beyond to service your vehicle properly.