Exhaust System and Muffler Repair: Why should you worry?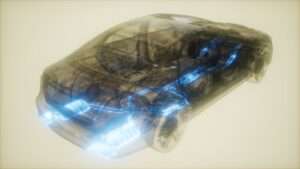 Believe it or not, even cars need oxygen to run correctly. If the mixture of gases is incorrect, or there's a broken component, your car could make more noise than necessary and blow smelly smoke that hurts the environment. Solve this noisy and embarrassing problem, with exhaust system repairs from AutoTech. Our ASE-certified mechanics in Kealakekua, HI will get your vehicle back to smooth, quiet, and clean operation.
Did you know where your vehicle's exhaust system starts? Right behind the engine, specifically at the front of your car. Exhaust manifolds are connected to the cylinder heads where gases start to collect. As these gases travel through the exhaust system, they're monitored by oxygen sensors and then refined by a catalytic converter. The muffler is last in line and its job is to muffle any noise created from the prior steps in this process.
The exhaust system is composed of many different parts, so it's not unreasonable that if one part isn't functioning properly, the whole system would be impacted. AutoTech will examine your car's exhaust problem in-depth and suggest the most efficient and affordable solution for you.
At AutoTech, we're fortunate enough to have some of the most exceptional mechanics on the Big Island! They excel in diagnosing exhaust system problems and fixing them just as quickly. Whether you need high-performance mufflers and exhaust systems or more affordable replacement parts, our quality name brand parts will be installed by a highly qualified technician.
AutoTech promises to fix your exhaust system or muffler at the most reasonable rates on the Big Island, so you don't have to worry about failing your next state safety inspection. At AutoTech, we're experts in car mufflers and exhausts. We'll make sure your system is functioning properly and meets all state and federal standards.
Although bad mufflers usually make noise, there are other more low-key indicators that your muffler is about to go. These include:
Rattling noise under the vehicle
Engine misfiring
Reduced gas mileage
Rough idle
Unpleasant odors inside the vehicle
Visual indications (cracks, clogs, holes, etc.)
It can be difficult to find a muffler and exhaust specialist in Kealakekua, HI. This is ironic, considering that these systems need to work properly in order for your vehicle to pass the state safety inspection! At AutoTech , we're proud of our ability to repair and maintain these vital components of your car as well offer full-service auto care.