Suspension System: Don't wait for your Car to Start Shaking!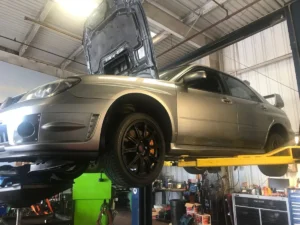 The suspension system in your car or truck is designed to give you a smooth ride. However, the parts of the suspension system are also susceptible to damage from road conditions, which can lead to wear and tear over time. If your vehicle isn't driving smoothly, it may be due to a suspension issue. Bring it into AutoTech and we'll get it back to running like new!
If driving to the store has started feeling like a carnival bumper car ride, it's time to call AutoTech! Trying to figure out suspension problems by yourself is frustrating and will likely lead nowhere. We're here to help you. Our ASE-certified technicians have experience with the suspension systems of many different vehicle makes and models, both old and new. So don't risk getting whiplash every time you drive; make an appointment with AutoTech today.
Why search for another auto suspension shop in Kealakekua, HI when you can come to AutoTech? We're a popular choice among Big Island residents because we offer convenient appointment scheduling and reasonable rates. Our goal is to become the only auto repair shop you'll ever need, so call us today!
Overwhelmed? That's an understatement! You certainly don't have the time or energy to travel back and forth across the Big Island just to get your vehicle's oil changed, do your annual safety inspection, figure out what is causing that grinding sound coming from your brakes, and give your car a thorough tune-up before hitting the road. Luckily for you, AutoTech in Kealakekua can take care of all of those things (and more!) in one convenient location.