Regular Oil Change: A Beginner's Guide to Keeping a Dependable Car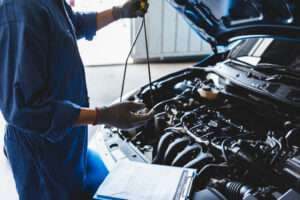 A crucial element in maintaining your car is to get regular oil changes. By exchanging the old oil for new, it will help keep the engine running smoothly as well as reduce wear and tear. Not to mention, mechanics will also take a look at other fluid levels such as coolant and brake fluid.
The three most popular types of engine oils are:
Conventional Oil: This is the most basic type of engine oil. It is made from crude oil and can be used in older vehicles or vehicles that do not require special types of oil.
Synthetic Oil: This engine oil is made by blending synthetic and natural ingredients. It costs more, but it safeguards your engine better than conventional oil.
High Mileage Oil: If your vehicle has accrued over 75,000 miles, this type of oil is for you. It helps cushion engines that have been experiencing gradual wear and tear.
Oil naturally degrades over time, becoming less useful. Oil changes are crucial to maintaining a healthy engine and preventing damage.
Depending on the oil type used and a car's manufacturer recommendations, cars need routine oil service every few months. If old oil isn't replaced with fresh oil, it can damage a car engine over time. Mechanics check other fluids such as coolant levels and top them off when doing an oil change. They may also inspect the air filter during an oil service and replace it if necessary.
Here in Autotech HI, we recommend that you get an oil change every 3000 miles or every three months, whichever comes first. We also have a wide variety of oils to choose from depending on your car's needs. Give us a call today and schedule an appointment! Oil changes are important, but they don't have to be a pain. Let us take care of it for you.