Annual Auto State Inspections: What You Need to Know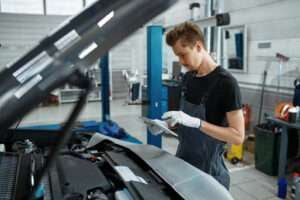 In the state of Hawaii, it is law that every vehicle must have an annual state inspection for the safety of not only its drivers but those around them. We do inspections for all private and non-PUC commercial vehicles. AutoTech is an authorized state inspection and repair shop for all types of vehicles, both private and commercial. We'll carefully inspect your vehicle in our Kealakekua, HI shop while you wait, and get you back on the road as soon as possible.
At AutoTech, our ASE-certified mechanics perform a thorough safety check on your vehicle that includes:
Body & Floor Plan
Bumpers
Door Latches
Exhaust System
Fenders
Fuel & Intake System
Horn
Lamps & Mirrors
Seats & Belts
Service & Parking Brakes
Speedometer & Odometer
Wheel Alignment
Wheels, Tires, & Rims
Window Tint
Windshield & Wipers
AutoTech wants to make your state auto safety inspection as easy and seamless as possible! We highly suggest making an appointment beforehand, and bring the following items:
Original insurance cards
Valid Vehicle Registration
We will sticker your car with the state inspection pass if your vehicle passes the state vehicle inspection. If it does not pass, we will tell you what needs to happen to bring the car into compliance with state safety codes. Immediately, you will receive proof of approval or rejection.